Gadrim's Wood Shop is dedicated to providing beautiful items to customers they can have and enjoy for many years. Quality Handcrafted Woodwork.

Hello friends, I am Jason Gadrim from Ohio and I started making wooden flags by hand as something to do to fill my time while being isolated in the basement at the start of this wonderful pandemic. I have always loved woodworking and with my wood flags I am able to share a little bit of my patriotism with other people who are looking for a nice way to display their love for their country. Take a look through this page and view some of the flags I have already made and shipped to their new homes. Thanks for visiting and I look forward to possibly talking with you in the near future.
My heart goes into making each flag
I do not rush quality to turn out more profit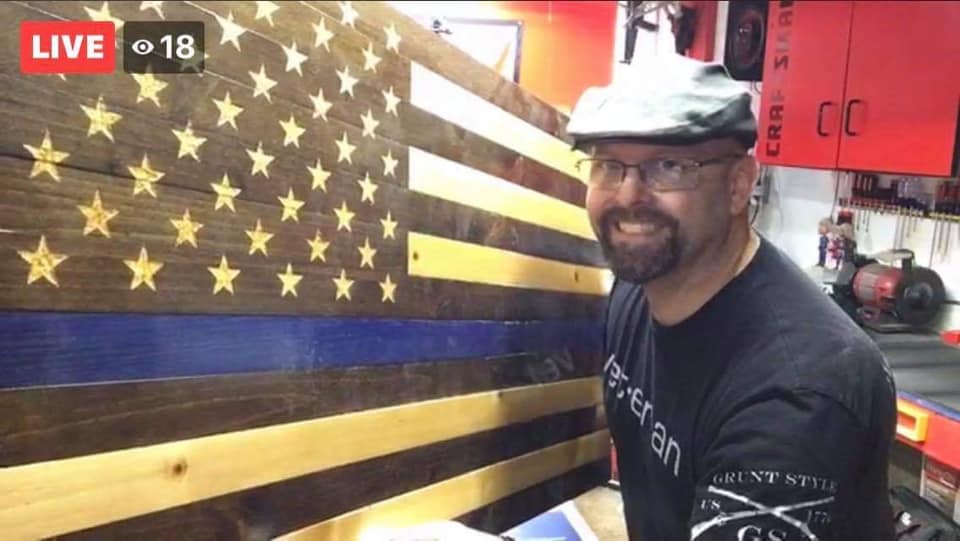 I always take my time producing each flag to make sure I send out the best quality I can produce. I learn new things with each handcrafted flag and I enjoy the process. With each flag I make, I give the customer the option to watch it being built via a Facebook or Youtube Live Stream Video.
Old Glory, Betsy ross, memorial, and thin lines
custom flags can be arrainged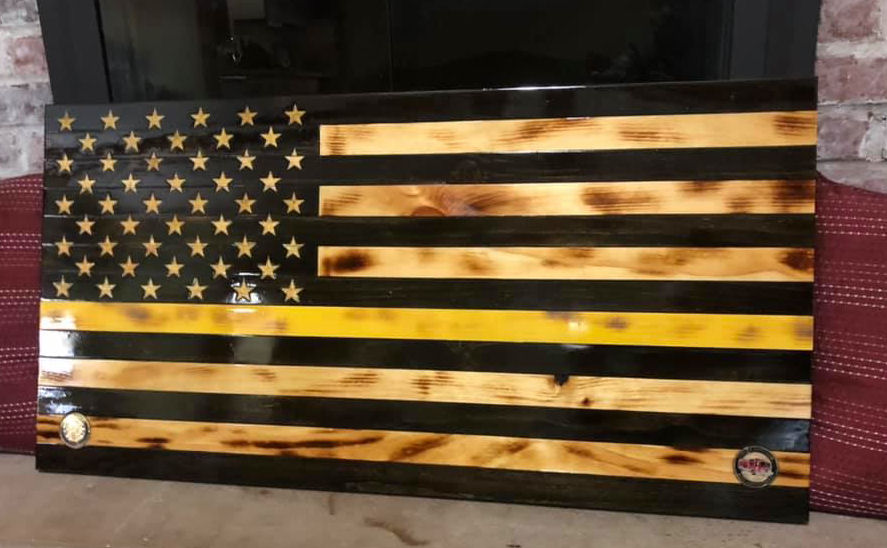 All flags I produce will be discussed and agreed upon prior to any payment to make sure no errors in design take place. I can do a variety of things while making your personal flag and will make sure you will get what you are asking for prior to agreeing to your personal hand crafted wood flag or other item.
I have created my workshop specifically for flag making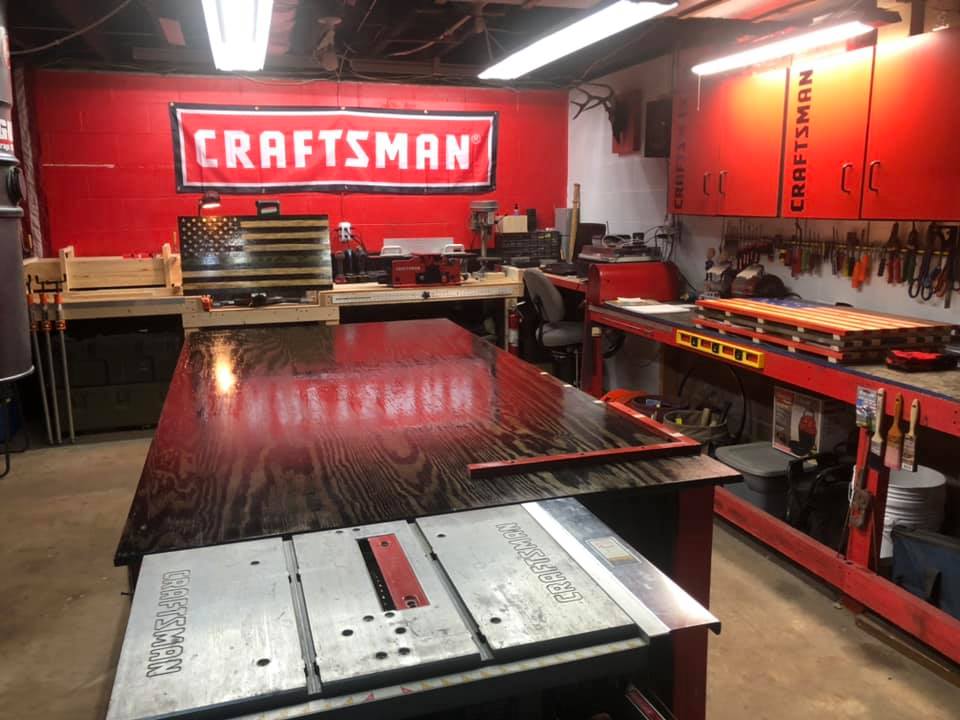 I have created a very nice work area with the help of my two sons and continue to add to it each month so I have the proper equipment to produce wonderful products built to last.
The love of the craft shows in the patience to create.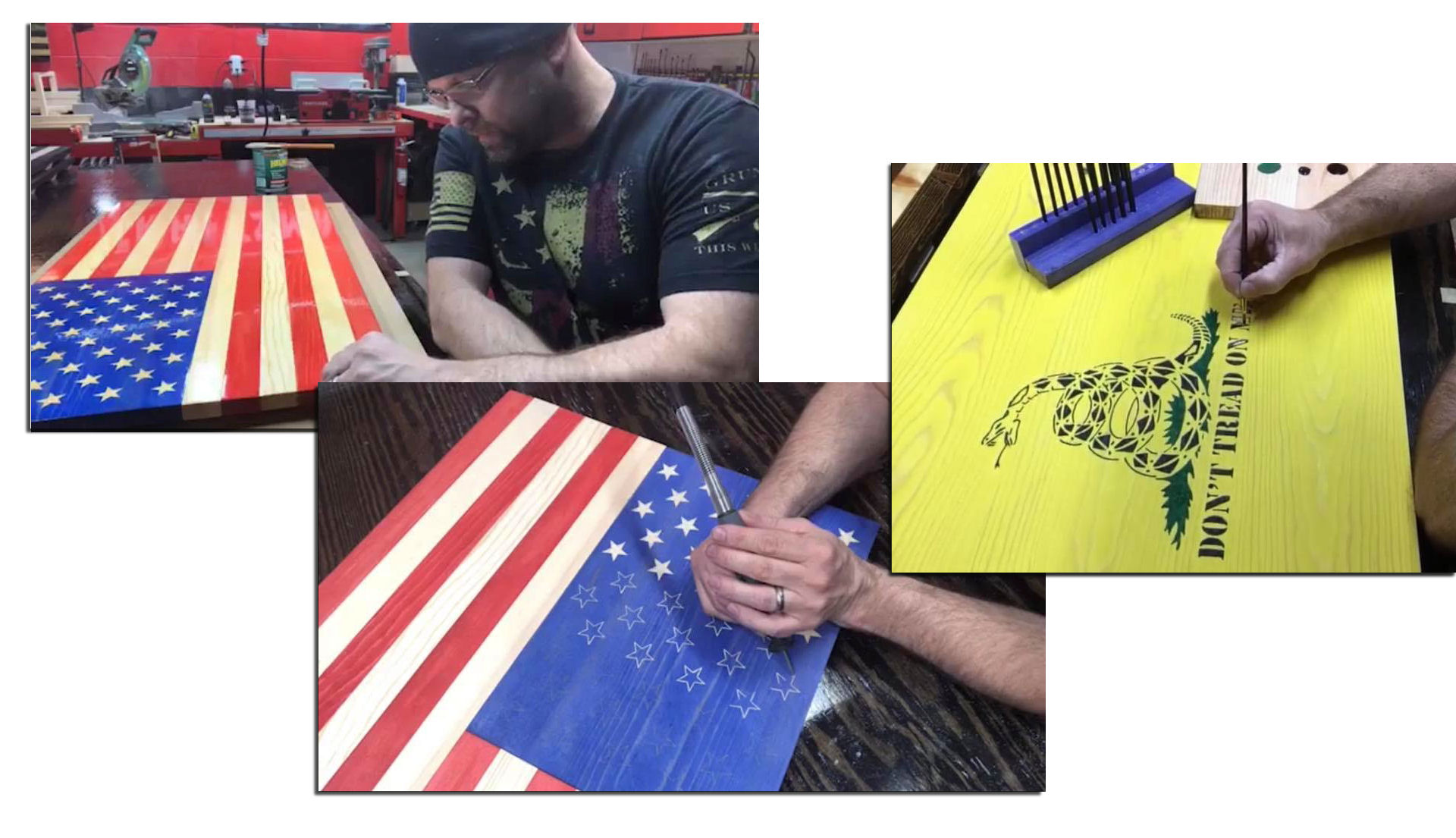 I have always taken the time needed to produce good art even from the days of my childhood. Doing things by hand takes time but it is worth it to me to know something was created that way. I will be offering milled stars soon but for now all flags have no option except for me to hand carve them into the union or use 3D stars which are glued on. Both ways are great looking but it will be nice to offer another option to you the customers.
Hello, I am just a regular guy living in Southeastern Ohio. I spent my early years struggling to figure out life just like many others. I started off as a kid who always loved any item that I could take apart and figure out how it worked. This sometimes didn't benifit my parents with several of their household items. Many items and gifts bought for me found their way to a thousand pieces and then back to its working existence. Some on the other hand never worked again but thats life.

Once I became old enough to work I started as a cook in the late 80's and then I graduated and started collage to be an architect which came to a quick halt when Dessert Storm started. I joined the Marine Corps and after that I worked construction and then I became a police officer which I am now a 26 year veteran of and is still my profession.
I have always loved woodworking and I have found a way to share my patriotism through it. I hope you find my craftsmanship acceptable and allow me the honor to create a piece that you can charish and pass down to the next generation. n.